UK's Venus Express is in orbit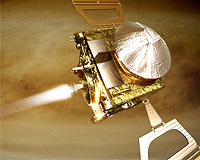 A UK-built spaceprobe made a swift handbrake turn on Tuesday to put it into orbit around Venus – the planet from hell.
The craft, Venus Express, fired its main engine for 50 minutes to slow down as it passed the world dubbed Earth's twisted sister.
For ten nail-biting minutes, the unmanned £150 million probe disappeared around the back of Venus and scientists waited to see if the manoeuvre – shown in the European Space Agency artist's impression above – had been a success.
Then there were cheers at mission control at Darmstadt, Germany, when Venus Express's weak signal was recovered.
It meant the ESA craft was in its correct orbit and could begin to discover what turned our twin world into a living nightmare.
The 93kg probe, about the size of a Mini, had made a 26million mile, five month journey to reach Venus following launch from Kazakhstan last November.
Venus Express is designed to operate for at least 500 days – or two Venusian days.
The probe, built at Stevenage by EADS Astrium, is packed with UK experiments. They will try to find out why a planet that so resembles Earth in size and make-up should have gone so horribly wrong.
And they will hope to learn lessons to save our own planet from a similar fate.
Venus is the closest planet to us and the third brightest object in the sky. The surface is permanently shrouded in cloud so that it actually gets less sunlight than we do.
But global warming has gone out of control and a runaway greenhouse effect has made it the hottest place in the solar system after the Sun.
The temperature on the ground is a searing 465C (869F) – more than twice that of a kitchen oven.
Air pressure at the surface is 100 times greater than on Earth. Its atmosphere is almost entirely poisonous carbon dioxide. There is no water. But it rains sulphuric acid from toxic clouds belched by volcanoes.
Russian probes which landed in 1983 melted and were crushed by the atmospheric pressure and no life could survive.
Dr Colin Wilson, of Oxford University, said at a London press conference: "The surface is far too hot. You certainly wouldn't find any life at the surface that you would want to hang out with!
"And it would be an unlucky astronaut who ever got sent there – nothing that landed has ever survived more than an hour."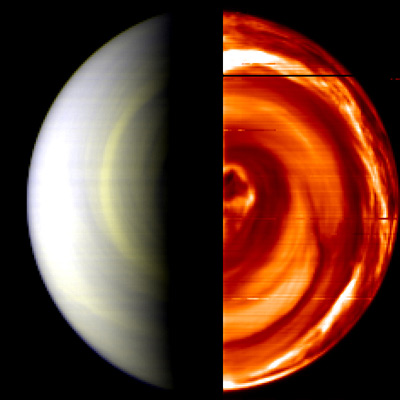 Dr Andrew Coates, of University College London, said: "Venus is our nearest neighbour but also our worst nightmare.
"It has evolved into our twisted sister – an evil twin. We must hope this won't happen to the Earth."
Despite the clouds, Venus's surface has been mapped by radar. Named after the goddess of love, nearly all its landmarks are named after famous women. But this is a planet in a state of permanent PMT.
Oddly, Venus rotates once every 243 Earth days, making its day longer than its year which is 225 Earth days long.
The first pictures of a swirling vortex over the planet's south pole are shown above.
The Venus Express mission was the brainchild of Oxford professor Fred Taylor and was organised in record time. It uses spare parts from Mars Express, now orbiting the Red Planet, and Rosetta, which is on its way to meet a comet.
The UK is contributing £20million towards the cost of the mission.
Professor Taylor told the conference from Darmstadt: "This is a very exciting time. Russia and the USA turned away from Venus and it is very exciting that Europe can fill the vaccuum.
"Venus really is Earth's twin but it deviated for some reason with its climate.
"Venus Express is very much focused on studying the weather and climate around the planet."
Professor Taylor added: "Venus Express cost about the same as a blockbuster movie."
That is a considered bargain in space terms – especially if it helps rescue Earth from becoming a hell world like Venus.

I have been a professional journalist for nearly 40 years. I write regularly for science magazines including BBC Sky at Night magazine, BBC Focus, Astronomy Now and Popular Astronomy. I have also authored three books on astronomy and contributed to others.
Latest posts by Paul Sutherland (see all)